ho·ly she·nan·i·gans ➝ [hoh-lee] – used as an intensive: often used in combination as a mild oath ➝  [shuh–nan-i-guh-ns] – trick or prank: a playful trick, mischievous prank, or other display of high spirits
HolyShenanigans is my little asylum.  An outlet for growth, expression and creativity.
Pre-college, I'd always wanted to do something creative with art.  The art room and dark room were my go-to places each day at school.  That place where nothing else mattered and every thing felt right.
When I look back now, I realize I was lucky that my small country school had a B&W Photography class where we learned to develop and print our own photos.  I had no idea then what an impact that would make on me, I've carried the love of Photography in my heart since and always have itchy fingers that want to learn and do more.
I went on to college and was intimidated by the amazing creativity that I saw everywhere. I let my low self-esteem lead me into a different major that I didn't love and that I didn't utilize. I wasted my time by being scared that I wasn't good enough, that I wouldn't be able to find employment…that I wouldn't be able to insert some random self-defeating thought here . You get the idea, there was always a heavy excuse to pardon me from learning more and reaching higher.
So many jobs and years go by, I randomly end up working online for a social community. I started out part time creating banners and helping with various small random jobs. I was a self-taught hobbyist still trying to "reach out" and do something creative. I was later moved to full time and recruited by the CTO to the software side of the company. With that, I've jumped in and got my hands dirty with product development, software testing and marketing.
In my spare time, I also contract with people for their various needs. This might be anything from writing copy, blogging for their business, putting an e-book together or special promotion assets, running contests, setting up social networks with business branding, moving websites from one server to another, creating blogs or sites to fit the personality of the owner or business and occasionally I work one-on-one with a client to help familiarize them to software or web practices that they might need assistance with.
With my creative draw being so intense and my adult mind coming into a place of calm, I want more! I want to learn more, create more – I want to no longer think in terms of "not good enough" and think in terms of "what's next". I want to explore the brushes and cameras that I had set down long ago and see where it takes me. HolyShenanigans is a place for me to have a little fun exploring anything and everything.
20 words from my 13 year old daughter, she wrote this when she was 11 years old.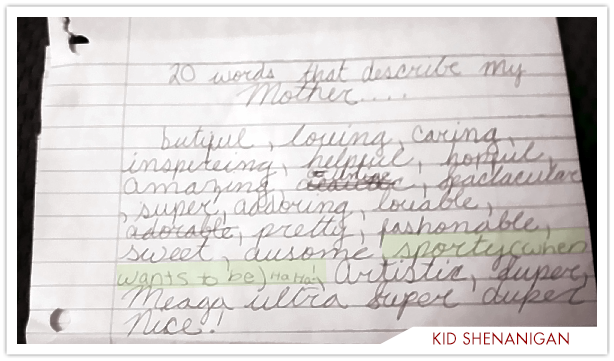 The lined-paper note is from my daughter.  It was so cute that I had to include it.  A couple of things I want to point out.
She has never called me "mother" before.  She calls me mom, mommy or mama.  This is her very formal heading!
I don't know if I really should like the spelling mistakes but I LOVE THEM.
The part I highlighted, says "sporty (when wants to be) HaHa!" I laughed because I am not sporty.  I asked her if she was joking or serious.  She looked at me with her lips curling up into a smirk, then said "Well mom, you are sporty when you want to be.   You just don't want to be."
>Online pharmacies fill millions of online prescriptions daily. For instance Temovate cream is a topical corticosteroid. This remedy reduce itching associated with variant skin diseases. One of the most popular medicament is Viagra. What is the most substantial information you should read about Viagra from canada? Some men who drink excessively like cocaine retrieve it tough to maintain an erection and turn to erectile malfunction medications. So it's momentous to know about the question. A joint form of sexual dysfunction among men is the erectile dysfunction.