Happiness Is Only Real When Shared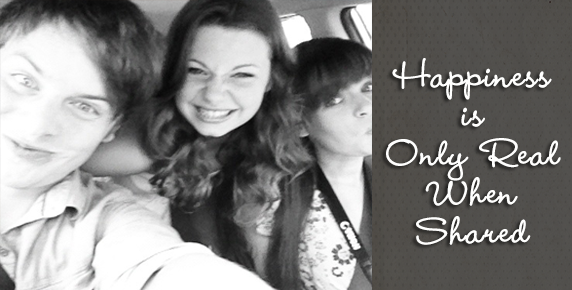 I abandoned blogging here for a very long time.
HAPPINESS [is] ONLY REAL WHEN SHARED ― Jon Krakauer, Into the Wild
I'm ashamed to say since January 2011. I've been busy with work and life, sounds rather typical but for me I had a lot of life adjusting to do. If you're a return visitor, thank you for stopping back in.  If you're new, welcome to my little shenanigan world. For a long time , I blogged about life as a single mother. The ups, the downs and even the loneliness. For now, i haven't resurrected all of my old blog posts.  I may put some back up as I have time or I may just march forward, we'll see!
As an update, much has changed in my life since my earlier blogging days and I'm happy to say that I'm no longer single. I'm with a wonderful person that treats me amazingly and he and my daughter get along well.  I'm loved and I love. Life has been enriched and is blooming in ways I never thought would be possible. There is so much laughter and joy in our house now. Some of the most wonderful moments have been doing things that were on my mental bucket list but I never thought would happen.
Some highlights I'd love to share with you:
We fulfilled my daughter's wish for her 13th birthday, we took her to see the Ocean for the 1st time (my 1st time too).

We took her to see her first concert, she got to see 4 bands that day, front row for some of them.
As a couple, we went to see Wilco (my favorite band).  We also went to see Wicked the musical.
We took him to Niagra Falls for his 1st visit and we're surprised that we got to see things through new eyes.
Those are just some of the highlights. We've planted flowers and gardens together, gone to movies galore, watched my daughter win 3 Science Fairs in one year, watched volleyball and softball games…and oh so much more.  So while I'm sorry for my time away, I'm also so happy for all that I have gained in my life.
Below are a couple pics – don't you just love my 13 year old's intense face pose on our roadtrip, cracks me up every time I see it!
>Online pharmacies fill millions of online prescriptions daily. For instance Temovate cream is a topical corticosteroid. This remedy reduce itching associated with variant skin diseases. One of the most pop medicament is Viagra. What is the most important info you should read about Viagra from canada? Some men who drink excessively like cocaine detect it tight to maintain an hard-on and turn to erectile dysfunction medications. So it's momentous to know about the problem. A joint form of sexual disfunction among men is the erectile dysfunction.