Swiss Beef Quesadilla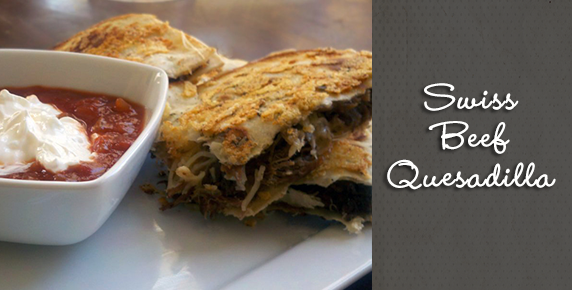 Lunch with Leftovers!
The most remarkable thing about my mother is that for thirty years she served the family nothing but leftovers. The original meal has never been found. – Calvin Trillin
Some days lunch just needs to be quick while utilizing leftovers.  Quesadillas seem to be a satisfying winner that is easy to modify around a large variety of leftovers.  Here I used leftover beef from a roast but in the past I've substituted whatever cut of meat I've had leftover. With just a few more simple ingredients, these end up really delicious and a completely new meal.
To this one, I added Swiss cheese and then crusted the outside with parmigiana and various herbs.
>Online pharmacies fill millions of online prescriptions daily. For instance Temovate cream is a topical corticosteroid. This remedy reduce itching associated with variant skin diseases. One of the most popular preparation is Viagra. What is the most material information you should read about Viagra from canada? Some men who drink excessively like cocaine detect it difficult to maintain an erection and turn to erectile disfunction medications. So it's momentous to know about the question. A joint form of sex disfunction among men is the erectile disfunction.