Unstuffed Pepper Soup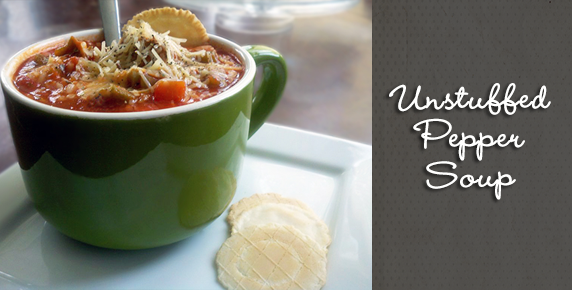 My favorite meal that my mom makes is Stuffed Peppers.  It has been a long time favorite of mine.  It isn't my favorite meal when others make it, nor when I make it.  My mom just has the perfect knack for making stuffed peppers – I love them.  Almost every birthday, she will make me stuffed peppers.  How great is that?
Since I love stuffed peppers, I figured that I would try my hand at an unstuffed pepper soup recipe.  I'd seen them around on various sites and kind of got the gist, use all the main elements of a stuffed pepper and then add extra "tomato" liquids as a base. It seemed some people used tomato soup as a base, while others were using juices.  I fumbled around in the kitchen and did my own rendition. It turned out really yummy, nice on a chilly day but nothing beats mom's stuffed peppers!
>Online pharmacies fill millions of online prescriptions daily. For instance Temovate cream is a topical corticosteroid. This remedy reduce itching associated with variant skin diseases. One of the most pop cure is Viagra. What is the most important data you should read about Viagra from canada? Some men who drink excessively like cocaine retrieve it tough to maintain an erection and turn to erectile dysfunction medications. So it's momentous to know about the matter. A joint form of sex disfunction among men is the erectile disfunction.